Designer Collaborations: Pantone
In the second in our series of designer collaborations we're honoured to feature our partnership with e3light and the world's leading connoisseurs of colour, Pantone.
The Designers
Pantone hit the scene in 1963 with a colour system for professional designers, helping sync many a designer's intention with their resulting print and product. It made the world of colours a better place to be. Since then, Pantone has transformed into a global consumer brand – engaging people the world over with everything from mugs and keyboards to cafes and hotels. And now it's the turn of lighting to encounter its' colourful calibration.
Pantone was born out of a frustration with a system that allowed for poor quality. Founder Lawrence Herbert noticed how hard it was to print exact colours from names (how many ways can you understand the colour "red"?) which in turn led to serious inefficiencies in re-printing. So he changed the way colour was communicated. By creating a system that reduced the number of variables in the printing process, Pantone's numeric system now means anyone, anywhere, can accurately reproduce a very specific colour.
There's always a reason for our collaborations and in this case, the Pantone story really resonated with our own. We saw efficient lighting as a broken system of unimaginatively conceived and designed products so we chose to create a new, more inspiring language to accelerate the growth of this new category. By combining modern technologies and beautiful design we reinvented the light bulb – something that hadn't evolved in over 100 hundred years – which in turn, increased the adoption of a more efficient technology.

The Pantone Deneb Pendant is a modernist design featuring a simple, sculptural shape creating a timeless look with a quirky colour twist. The pendant has a powder coated finish and is supplied with a metal ceiling rosette and, a 3-metre coloured cable the pendant has quality in abundance.
Pantone Deneb Pendant in Action
With 7 different colour options; including Ultra Violet, Pantones colour of the year 2018; each one striking in their own right. The Pantone Deneb Pendant and Plumen WattNott bulbs offer a sleek, modern pairing creating a focal point for your lighting.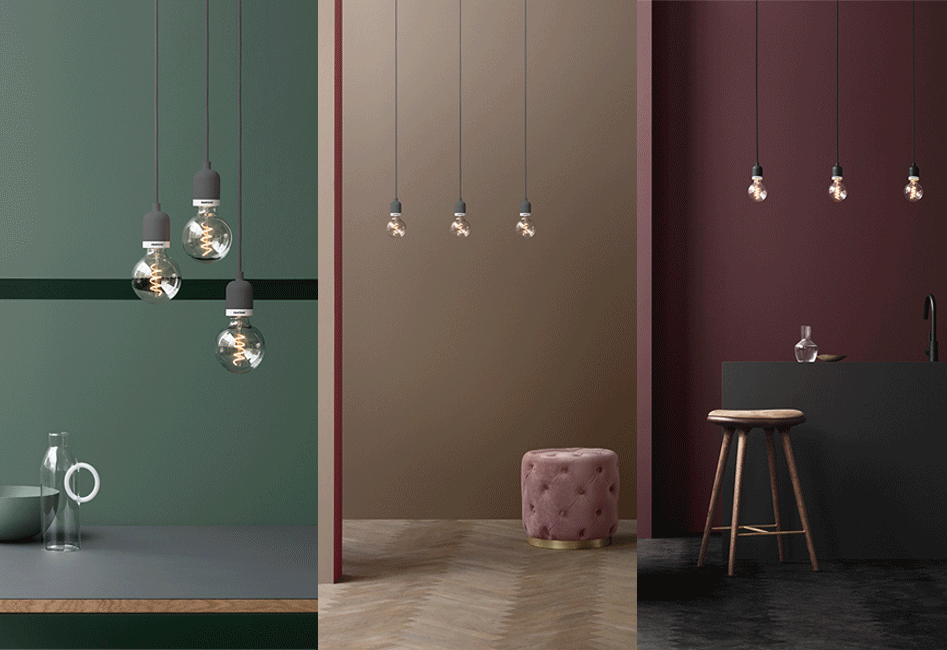 Pantone's collaborations in the product world reinforce their colour defining credentials, while cementing their position in the heartlands of great design. The Pantone lighting range is no different. Popularity of colours will rise and fall, but Pantone's credibility within the design world won't be affected by these shifts in fashion. Pantone is bound to colour as we are bound to light. And both are here to stay.
Click here to buy this collection by Plumen.
Share this story: